Because everyone deserves a stellar website, let's create one together! If you have one already up and running, don't despair. These little tips and tricks may enhance your visitors' experience.
As you know: a website is never done and ready. There is always something that you can improve on.
Are you a small business owner who wants to live location independently?
Or a mum wishing to leave the 9-to-5 to start a business?
One that allows you to spend more time with your kids?
Whatever is your motivation: If you don't have a website, you are missing out. And your competition definitely has one. So why make their life easier?
Creating a website involves certain steps. And some level of strategic thinking. But no worries, we'll tackle them together.
Disclaimer: I won't talk about how to pick a business name, a domain name, a web hosting provider or which website platform to go for. If you need help with any of this read this blog post where I'm walking you through the high level steps.
#1 Purpose: What do you want to achieve with your website?
Before you start writing your website copy, you need to be clear on your purpose. Unless you know your goal, you won't be able to find the layout and graphics that support it in the best possible way.
Let's look at the following scenarios:
If you have a physical shop where you sell all your merchandise:
Do you want your website to sell the full range of your products?
Or only a selected / limited range?
Do you want to share on your web page general information about the store? Like opening hours, location, contact details, special promotions?
Do you may want a blog section, too, where you can introduce and promote your products in your posts.
Are you running a webshop? Do you sell
physical products,
digital assets or
both?
Most consumers have a good understanding of physical goods. In case of digital assets you need to show and explain to your customers how they can use and enjoy the digital products you are offering. Also, physical goods if damaged during shipping or received faulty can be sent back. How do you handle problems with digital items?
Service based businesses with a physical location like a beauty salon, need to provide different information on their website than location independent businesses like coaches or web designers.
A beauty salon could go for a single, long form web page listing their prices, location and contact details. And an appointment booking calendar feature. The goal is to get them from your website to visit you in person.
A life coach would benefit from a traditional website structure. A few intentionally selected pages, that guide their potential client through the steps of how they can help them overcome their personal struggles.
Some more objectives to get you start thinking about your website.
Do you want to:
generate more traffic,
increase brand awareness,
get more email subscribers,
engage potential and existing customers?
It will impact the length of the body copy, the number and type of pages you need to plan for, and the navigation links and sub-links, just to name a few aspects.
So before you start browsing through Pinterest for the coolest layout template the world has ever seen: get clear on your purpose.
#2 Audience: Who are your people?
You rarely create a website for yourself.
Unless it's an online diary sort of thing that you use as a therapeutic place to write things out. And don't care about anyone else. But truth be told: how many such sites/blogs have you actually come across?
If you run a business selling products or offering services, you will have a main target audience.
These ideal clients have the need for what you're offering and the means to pay for it. Write your website copy in a way that clearly speaks to them. Use words, phrases, cultural references and stories that they understand. That they can relate to.
If you find it hard to find your niche (and ideal clients), this guide from Gemma Gilbert might help you started.
Creating an ideal client/customer profile could help you. But don't get carried away.
Knowing whether they drink espresso or a chai latte only helps you if you're to open up a coffee shop.
Knowing that they like to knit in their free time doesn't help if you sell Lightroom presets for travel bloggers.
When yo create your ideal client's profile, focus on your business context. Focus on your products and services and how you provide them. Think about what information your clients need and what information do they want when visiting your website. Your website is there to help them.
Combine these insights with your website purpose from the previous point.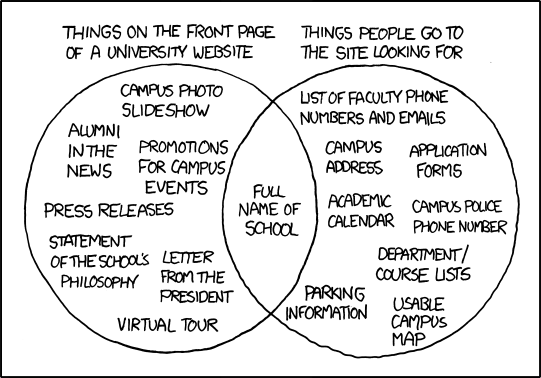 #3 Competition: Get inspired and learn
Once your website is up and running it won't be the only one out there selling products or offering its services. Look at your competition and other websites in your industry and local market to see what they are doing. Are there any visible trends?
Also, do you like what you see? If yes, note down for your own reference and also comment it stating what you like about it and why you think it works. You want to incorporate as many things as it makes sense from this list into your own website later.
You also will come across things you don't like. That you get frustrated about all the time when visiting certain websites. Write those down, too and use it as a guideline not to implement them on your own website. If you hate pop-ups that appear right after you navigated to a website, don't add them to your own either!
A few ideas to look for when checking inspirational websites and your competition:
How many navigation labels do they use?
What do they call their navigation labels?
How is the site set up?
Do they use sub-menus?
How deep do they go?
If it's a shop: what wording do they use for their product categories?
For generic body copy: what words, phrases do they use that speaks to you or puts you off?
How many CTA buttons do they use?
What copy do they use on the buttons?
Feel free to add your own findings to this list and make it your own.
#4 Structure and navigation: lay the foundation
By now you know the purpose of your website. You visualized who your ideal audience is. And you have a general idea of what you want and don't want on your website.
It's time to plan the site navigation and the general structure.
Think about what pages you want on your website. Or if you want to go for a single, long form scrolling page, consider what sections you want to add from top to bottom.
Most traditional sites have a Homepage, and you want to include other pages that explain:
Who you are
What you do or What you sell
How you do it
Where you are.
You can add more pages like Blog, News, FAQ, Events, Photo gallery, Privacy Policy, Cookie Policy, to name a few. But before you plan adding more and more, use the insights from the previous sections and ask yourself:
Does it make sense?
Will it bring me closer to my purpose and goal?
Would it actually help my target audience?
Your website visitors should be able to quickly understand what your site is about and find what they are looking for. A website with too many pages and with a too complex navigation structure can be off-putting.
Naming your main navigation links should be simple and straightforward. There is no place here to get fancy and confusing. If they click on the Services navigation link they want to read about your services.
Use simple logic as you brainstorm about the ideal page structure. Consider how your visitors will navigate through the website. They should be able to access any page with the least amount of clicks from the homepage. Try to keep it to no more than 3 clicks deep if possible.
#5 The main act: Write your individual page content
Once you know what pages will constitute your website, you can get your hands dirty with ink and write the copy of those pages. Or you can do it on your laptop in a text editing software of your choice.
For each page you must be clear about
who do you want to reach, and
what you need to tell them to get their attention.
Also think about the purpose of that specific page and about your audience. What are they looking for when they visit that page? And always give them answers to that.
The Homepage typically provides a first glimpse. A high level overview. And a short compelling introduction of what you offer. Be clear and state it right away. If someone clicks on your website they should know if they are at the right place with their individual problem.
The About/About Us/Our Business or similar page is to tell your visitors in a bit more detail who you are and who the ideal client is that can benefit most from your services or products.
The Services/Products or similar page is the place to explain what your business does or offers to your customers. Use this page and relevant sub-pages here to list everything you do:
your various package offerings, or
the brands you sell, and
the vendors you work with.
The Portfolio/Projects/Gallery or similar pages are there to showcase what you have done for your clients. This can be samples of your past client work in a gallery format. Or case studies about how you transformed your client's life/business with before and after images.
The Visit Us/Contact/Location or similar pages are there to provide your
physical location (GPS coordinates) in case of brick-and-mortar shops and businesses,
hours of operation,
contact details like email address, phone, or
a contact form to send messages via the page itself.
You can add your social media handles here as well, but don't make it as a prominent part of the page. Now that visitors are finally checking out your website, you don't want them to go elsewhere. You know very well that once they land on Facebook, Instagram or Pinterest, they can be easily distracted. And they may not go back to your website.
When you start writing the body copy for all your individual pages, take into account that most people don't actually read web pages. At least not word by word as in case of a book.
Be honest: When was the last time you actually read every word on a website? No, that occasion you've read that lengthy blog post on "How to get rich overnight? My guaranteed 5 steps formula" does not count. So if you don't do it yourself, don't expect it from your visitors either.
Instead of reading the whole site, we scan through the text looking for highlights, anchor points to rest our eyes upon. To make your website more user and reader friendly, edit down your text as much as possible. You don't need to fill the whole screen with words.
Also, try planning your whole website copy with a smartphone screen in mind. For your website to look good and efficient on those smaller screens you don't want to cram it full with lengthy headlines or paragraphs. And more and more people browse social media and websites from their smartphones anyway. So it's a win-win situation if you start planning with a mobile first mindset.
Remember: writing effective website copy takes time and effort and practice. If you'd rather tend to your own clients and customers, your best decision is to hire a good copywriter.
This blog post was originally published on April 21, 2019.
Looking for a website designer for your business or blog?